SLE - SALES JOURNAL ENTRY
To open SLE, press <Alt M> ("Menu") and follow the Menu path illustrated below, then press <Enter>, or simply enter <SLE> in the "Enter Program Name" field and press <Enter>.

SLE allows manual entry of sales, changes to sales, and deletion of sales.
At the prompt, enter the supervisory password.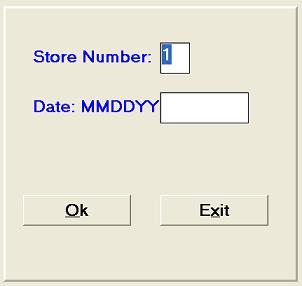 Enter the store number and sales date on which you wish to make an entry or to edit, and select OK.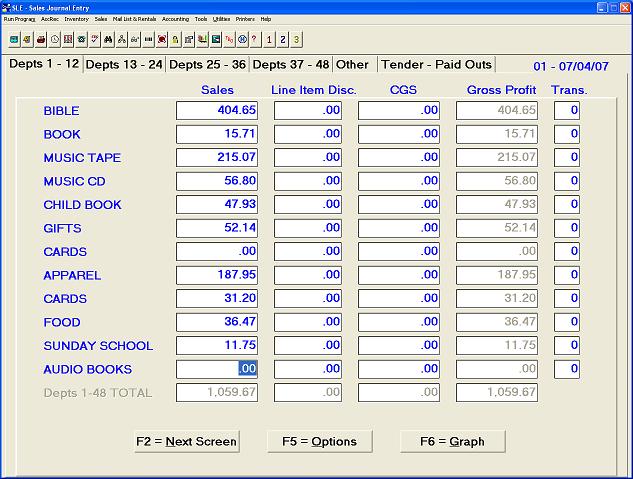 Information is displayed on six screens, which are accessed by using the <F2> key.
Sales 1-12 (Departments 1-12)
Sales 13-24 (Departments 13-24)
Sales 25-36 (Departments 25-36)
Sales 37-48 (Departments 37-48)
Other (XMPT Sales, Discounts, Layaways, etc.)

Note: When you press <Tab> or <Enter> at XMPT Sales, the sales tax exempt break-out will be shown, if SYS Config File, Change Misc. Configurations number 4022 (Ask for add'l sales tax exempt info at POS?) has been set to "Y."

Tender - Paid Outs (Cash, Checks, Credit Cards, etc.)
When you run the SLTL ("Total Cash Registers") routine, all figures, except the cash amount, will automatically be entered in SLE. SLE allows you to enter the amount of cash and, if needed, to make changes to sales.
The bankcards, checks, and cash should equal the total amount of the register drawer. On screen six, "Tender-Paid Outs," enter the amount of the "Cash" to be included in the deposit.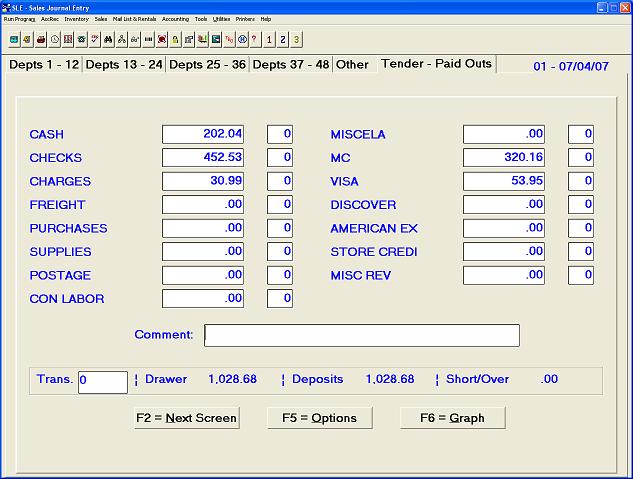 Make any other adjustments needed, enter any comment concerning the day's sales activities, if desired (for example: "Christmas Sale" for a high volume day or "Snow Storm" for a low volume day), and select F5-Options to save, print, etc.