ARSM - SET UP FOR NEW MONTH
To open ARSM, press <Alt M> ("Menu") and follow the Menu path illustrated below, then press <Enter>, or simply enter <ARSM> in the "Enter Program Name" field and press <Enter>.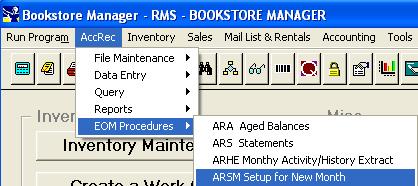 If "ARSM" is run at the end of ARHE ("History Extract"), do not run again.
Purpose of "SET UP FOR NEW MONTH":
Re-names file NARTMTD TO ARSTMTD.
Creates empty invoice file.
Updates files to be current.
Only takes a few seconds to set up new month. When completed, "ARSM Completed Successfully" will be displayed.
If you have already run ARSM and try to run it again, you will get a File Error 35 on NARTMTD.