ARD - DELINQUENT LETTERS
To open ARD, press <Alt M> ("Menu") and follow the Menu path illustrated below, then press <Enter>, or simply enter <ARD> in the "Enter Program Name" field and press <Enter>.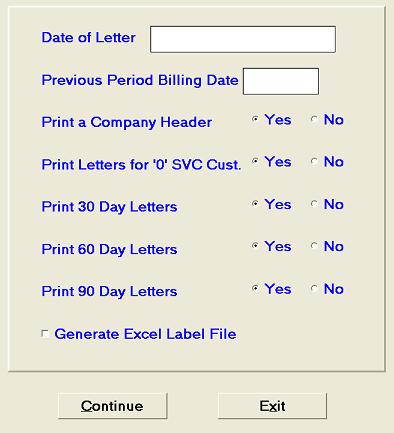 Note: ARA ("Aged Balances") weekly or monthly MUST be run for current payments to be reflected in this program.
Enter the date of letter (month, day, and year) using commas, slashes, or hyphens as needed.

Enter the date of the last statement billed, using number without slashes or hyphens. If the customer has paid on their account since the last statement or period billing date, a delinquent letter will not be written.

A company header includes the company's name and address. If you use your own letterhead stationery, you would not print a company header.

Customers with "No Service Charge" selected in the "Service Charge" field in ARM are customers who are not charged a service charge for delinquent accounts.

Delinquent letters may be sent to customers with 30, 60, and/or 90 day overdue accounts. You may change the letter format in SYStem Maintenance, 30 Day Letter, 60 Day Letter, 90 Day Letter.
A letter will include the name, address, date, account number, amount due, and last paid. It will also include at the bottom of the letter the aged amounts: current, 30 days, 60 days, and 90 days.