SLTP - CASH REGISTER TAPES
To open SLTP, press <Alt M> ("Menu") and follow the Menu path illustrated below, then press <Enter>, or simply enter <SLTP> in the "Enter Program Name" field and press <Enter>.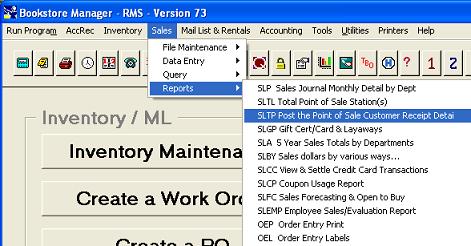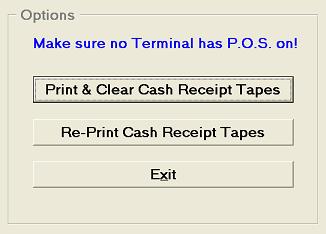 Note:
The POS ("Point of Sale") program should not be open on any terminal when this program is started.

Note: You may print this to a file. Go to SYS, Config File, Change Misc. Configurations, number 4006, "Sltape export file name."
Leaving blank will send the information to the printer.

Enter <SLTAPE>, and the information will be sent to a file named SLTAPE.

If you enter <NONE>, the information will not be printed or sent to a file.
This is a record of your sales, and we suggest you keep a copy in some form.
This program allows all transactions to be printed on 8 ½" X 11" paper. You will have 1, 2, or 3 columns per page.

Register 1 will print in the left hand column, register 2 in the middle and register 3 in the right hand column. Registers 4-30 will repeat the same format. This information will be the same as the information on the sales tapes. SLTP eliminates the need for duplicate point of sale receipts. The user can chose to save this information to a file instead of printing to paper. See SYS Config # 4006.

SLTP is a daily close out procedure and requires all POS stations exit POS before starting the program. Once SLTL has begun printing, users may again use POS.

All transactions since the last time SLTP was run will be printed.
Example of printed transaction:
Each transaction will be listed as it was rung up.