MLT - RELATED A/R ACCOUNTS REPORT
To open MLT, press <Alt M> ("Menu") and follow the Menu path illustrated below, then press <Enter>, or simply enter <MLT> in the "Enter Program Name" field and press <Enter>.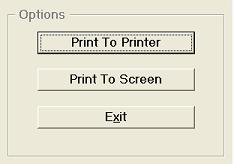 This report shows all mailing list customers who have a related Accounts Receivable account noted in the "Related A/R" field in MLM. The following information will appear on the report:
A/R account number, name, city, state, current purchases, last year's purchases, total purchases, and discounts given.