BVH - VIDEO HISTORY ROLL
To open BVH, press <Alt M> ("Menu") and follow the Menu path illustrated below, then press <Enter>, or simply enter <BVH> in the "Enter Program Name" field and press <Enter>.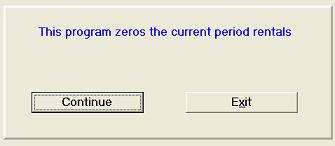 The BVH program zeroes current period rentals. Total rentals and total fees are not affected.
It is your choice when to run this program (monthly, quarterly, every six months, or yearly).
Select "Continue" to begin.