IVSI - SPECIAL ORDER INQUIRY
To open IVSI, press <Alt M> ("Menu") and follow the Menu path illustrated below, then press <Enter>, or simply enter <IVSI> in the "Enter Program Name" field and press <Enter>.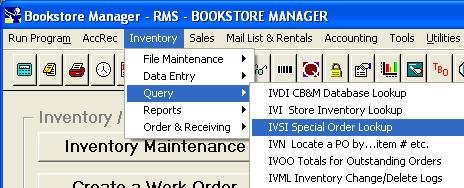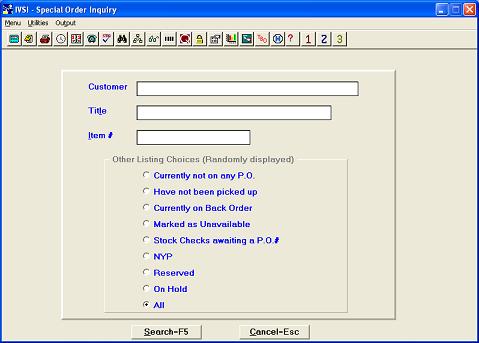 Allows special orders to be located by customer name. It is important that you enter the names consistent with the way they are entered on your mailing list.

Example: Last name, First name (as in Smith, John)

Enter the name and select Search=F5.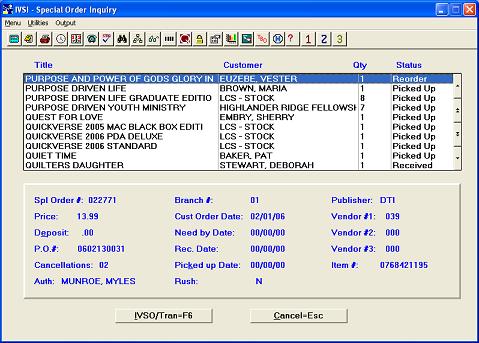 If the customer has more than one special order, they will be grouped together, with the first one highlighted. The information on the bottom half of the screen corresponds with the highlighted order. The information will indicate the "Item #," the "PO#," whether it is a "Rush" order, etc. If the "PO#" field is blank, the item has not been ordered.

The IVSO/Tran=F6 command button will allow you to view or make changes on the special order.

If there is a (P) on the Special Order screen to the right of the "Status Code" field, you will know that only part of the order has been received. You will need to manually change the status code to "Canceled" and the amount to order to the amount NOT received, so that the rest of the order will be ordered. Be sure to save the changes by selecting Options=F5, Save. You cannot ring up this partial order by entering <S> plus the special order number in the item number field at POS.
Allows special orders to be located by the title of the item.

Enter the title and select Search=F5. The titles will appear in alphabetical order, with the requested title highlighted.

Allows special orders to be located by item number.

Enter the item number and select Search=F5. Special orders will be listed numerically by item number, with the requested item highlighted. If an item number is not on order, the highlighted item will be the next numerical item number on order.

Other Listing Choices (Randomly Displayed)

These choices allow you to quickly view special order items that are not on order, haven't been picked up, etc.

Currently not on any PO.
Hasn't been picked up (includes both received and reserved items).
Currently on backorder.
Marked as unavailable.
Stock Checks awaiting a P.O.#
NYP (not yet printed).
Reserved
On Hold
All