IVN - PURCHASE ORDERS
Locate an Item on a P.O.
To open IVN, press <Alt M> ("Menu") and follow the Menu path illustrated below, then press <Enter>, or simply enter <IVN> in the "Enter Program Name" field and press <Enter>.

This program allows you to locate all of the orders that contain a particular item number.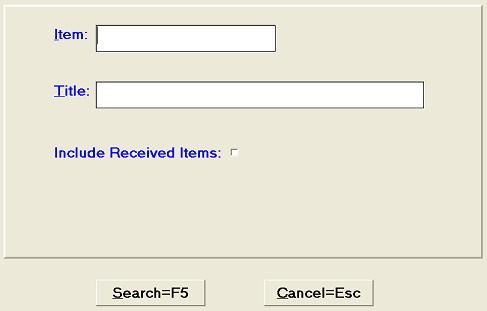 Enter the item number and/or title of the item you want to locate. If you wish to view received PO's as well as outstanding PO's, check the "Include Received Items" box. Then select Search=F5.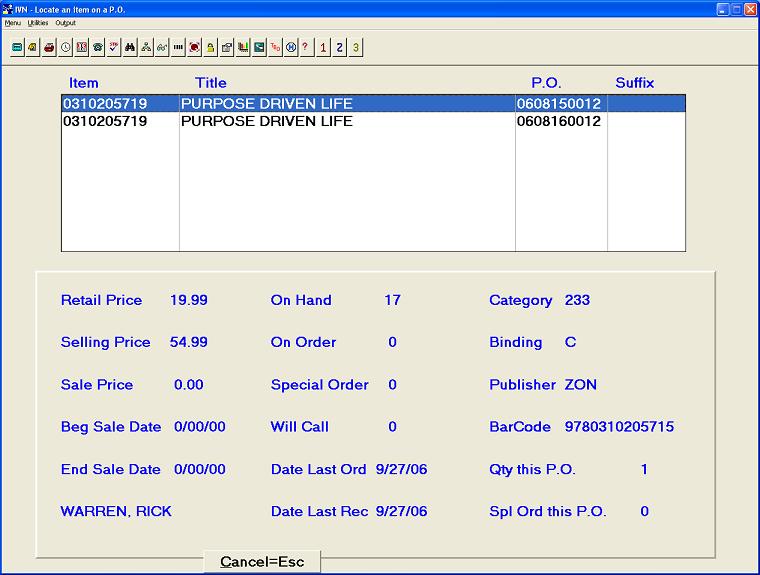 The screen will display the item number, title and author in the list box. The lower part of the screen will show other information about the item, including purchase order number. If IVN is accessed through Special Orders, Allocate=F5 will allow you to attach the special order to the purchase order and, if the item on order is not already spoken for, tag the item for the special order.

If the item is on more than one purchase order, the information on the lower part of the screen will correspond with the item listing you have highlighted in the list box.

Select Cancel=Esc for the option to enter another item number or title for locating.