IVMS - INVENTORY MISSED SALES
To open IVMS, press <Alt M> ("Menu") and follow the Menu path illustrated below, then press <Enter>, or simply enter <IVMS> in the "Enter Program Name" field and press <Enter>.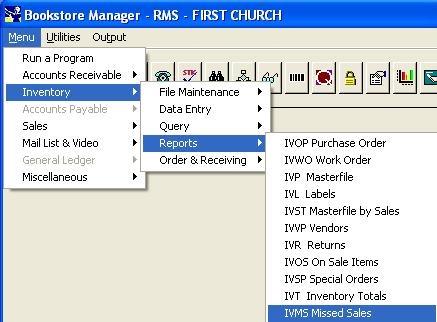 When you miss a sale because the item is not in stock (or for whatever reason) and the customer does not want to make a special order, you can keep a record of the missed sale through IVDI ("Data Base Inquiry"). Find and highlight the item, and select the "Lost Sale=F8" command button. At the pop up window, enter the number of "Sales (in Units) Lost," and select Save=F5 to record.
To view or print a report of missed sales, run the IVMS ("Missed Sales") program.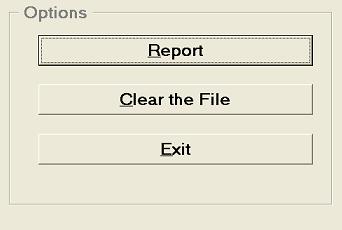 Enter the beginning date of the time period you want to review, select "View" or "Print," and then select OK to generate the report. The report lists the item number, title, author, number of units, price, extended price and date sale was missed.
After choosing this option, select Yes at the "Are you Sure?" message, and all the entries will be deleted from the missed sales file.